Jobie Skaggs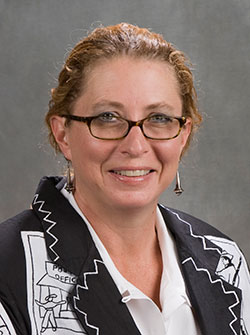 Interim Associate Provost, Associate Professor
Swords Hall 206A
(309) 677-2665
jskaggs@bradley.edu
Ph.D., Counselor Education and Counseling (CACREP) from Idaho State University
Master of Counseling, Community Counseling (CACREP) from Idaho State University
B.S., Psychology from Idaho State University
Biography
Dr. Jobie Skaggs is the Interim Associate Provost for Academic Affairs and is an Associate Professor in the Department of Education in Leadership, Non Profits, and Counseling. She teaches Research Methods, Theories, Group Counseling, Pre-Practicum, and Practicum/Internship among other Counseling courses.
Dr. Skaggs served as the President to University Senate, on the Graduate Executive Committee, and as Department Chair. She is currently a team visitor for CACREP and a Program Director of Faculty Led Short Term Study Abroad in London, Edinburgh, and Dublin.
Dr. Skaggs earned her Ph.D. in Counselor Education and Counseling from Idaho State University. She joined Bradley University in 1999.
Professional Experience
Dr. Skaggs has more than five years of general and forensic private-practice experience. During her tenure as a clinician she developed, and was the clinical supervisor, of the Bannock Domestic Violence Center and a board member for the Idaho Women's Network.
Teaching
Dr. Skaggs teaches Research Methods and Applications, Theories and Techniques of Counseling, Principles of Group Counseling, Human Growth and Development Counseling, Introduction to Counseling, Counseling Ethics and the Law, Pre-Practicum, and Practicum/Internship.
Scholarship
Dr. Skaggs' research interests include counselor impairment, ethics, issues related to counseling offenders, supervision, multicultural counseling, and the impact and logistics of international study abroad.
A sample of Dr. Skaggs' published articles and monographs include: A primer on organizational ethics and leadership for professional school counselors, a review of current research on families coping with a traumatic brain-injured member; review of research methods regarding insight and schizophrenia; homicidal risk and schizophrenia; learning environments in higher education; psychometric properties of standardized certification examinations for various national and international organizations. Dr. Skaggs has presented her research at local, state, regional, national, and international conferences.
Service
Dr. Skaggs is the CACREP Liaison and Program Coordinator for the Clinical Mental Health Counseling program, is a CACREP Team Visitor, serves as the President to the University Senate, is the London and Dublin Study Abroad Program Director, serves on the General Education Review Steering Committee, Faculty Planning Committee to the Student Research Expo, and is a reviewer for the Canadian Journal of Counseling. Past service includes: co-editor for the Illinois Counseling Association Journal (2002–2010), Executive Council Secretary to the Association for Multicultural Counseling & Development (2003), and Secretary to the Graduate Executive Committee (2006-2012).
Dr. Skaggs assisted in the development of the 10th Judicial Circuit Court Visitation Center; served as the Valeska-Hinton Professional Development Coordinator, and was the co-editor for the Illinois Counseling Association Journal (2002–2010).
Licensures and Certifications
Dr. Skaggs is a National Certified Counselor and a Licensed Professional Counselor (IL).