2022 Outstanding Co-op/Intern of the Year Award Winners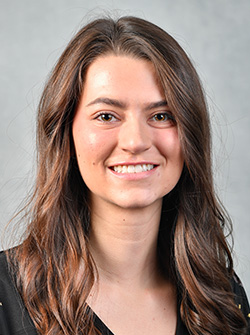 When I started college in the Fall of 2020, I had my sights set on going to medical school and pursuing a career in Neurosurgery. I took it upon myself to learn everything I could about the field from neurosurgeons like Dr. Ben Carson and Dr. David Levy. In my sophomore year, I realized that becoming a neurosurgeon did not align with my values and vision for the rest of my life. I then found a passion for discovering the field of hospital administration. I interviewed countless health professionals and read several books based on hospital administration and business in general.
I read a book titled "Patients Come Second" the book described research that correlated patient experience to employee satisfaction. After reading this, I knew I wanted to explore the local Peoria hospital systems to determine how they were trying to improve patient satisfaction scores. Since this was not a project sponsored by an entity, I had to find someone willing to help me implement it. I reached out to a couple of the health professionals I had done interviews with previously, and they helped me connect with other health professionals that were willing to mentor me.
As an intern at UnityPoint Health, I toured and shadowed each hospital in the Peoria region: Pekin, Proctor, and Methodist. I also wrote a report analyzing data that was provided to me by the hospitals through several nationwide surveys (HCAHPS, NPS, etc.). It was an incredible opportunity to see firsthand what each hospital was doing to improve patient experience scores.
My mentors at UnityPoint helped me to enhance my communication and professional skills. I learned both the layout of the physical hospital and the structure of the leadership in each department. As I finish my final year at Bradley University, I am thankful for the connections I made at UnityPoint, and I am excited to take all that I learned and apply it to my future career.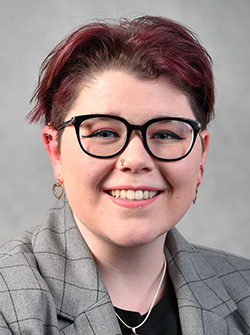 Meagan Ruger
College:
Slane College of Communications and Fine Arts
Major:
Sports Communication
Employer:
Normal CornBelters
In the summer of 2022, I was selected as a broadcast intern for the Normal CornBelters. The Normal CornBelters are a Prospect League baseball team, pulling collegiate athletes from around the midwest to compete at the Corn Crib in Normal Illinois. There are many faces you will see at the Crib, but some of the most integral are those working behind the scenes. I was one of those people, working before and during the season to make sure our fans had the best day out at the ballpark.
As a broadcast intern, I had many different roles. Before the season started, I was a part of a team of three who put together a booklet of advertisements and announcements for the public address announcer to read in before, during and after the game. During the season, I was lucky enough to be the public address announcer for a few games. My team also had to download, trim and upload over 50 different songs for the players to use as walkup songs, which required special software.
Another role I had as an intern was podcast producer. My team created a 9 episode podcast from the ground up. Corn on the Call was created in partnership with BloNo Pizza Co in order to give fans an inside look at the CornBelters players, season and organization as a whole.
Despite all of these great opportunities, my favorite role this summer was solo broadcasting the CornBelters' baseball games. This role allowed me to be director, producer, audio and graphics operator, as well play by play and color announcer. Though it was incredibly stressful to handle all of these roles at once on my own, it was an experience that will benefit me for the rest of my career. I had to figure out how to run an entire broadcast on my own as it was happening, which has given me the knowledge to handle any situation that comes my way whenever I am broadcasting a game.
This summer with the CornBelters, I worked incredibly long and hard hours, discovering every in and out of what it means to be a baseball broadcaster. Throughout the course of this internship, I learned that I am a lot stronger than I thought I was, especially when it comes to new experiences. I gained a deeper knowledge of the ins and outs of sports broadcasting, as well as made many great memories with wonderful people in the industry. This internship has prepared me for success after college as well as given me confidence in myself as a future sports broadcaster.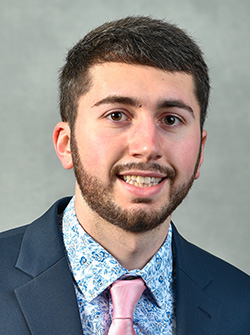 Rural living made it extremely difficult to find a healthcare job in a clinic willing to take a college student on for the summer. After tireless searching, I finally found Illinois Valley Orthopedics in Peru, IL, a clinic that was willing to give me a chance. Their manager understood my frustration from a management perspective, as most pre-health professionals from the area do not return after seeking employment in urban areas. Because of this, I was lucky enough to not have to move to a large city to acquire experience and had the opportunity to serve my local community. Working in an orthopedic clinic in an underserved area presented me with many challenges besides the learning curve of the specialty; I learned to efficiently work and communicate with an understaffed team while experiencing an influx of patients. In such a clinic, everyone must be willing to help others out at the drop of a hat to keep days running smoothly.
As a Medical Assistant (Non-Certified,) I was responsible for putting patients in exam rooms and obtaining vitals and history, setting up the room for the physician, scheduling tests ordered by the physician, recording all information in the proper template within the Electronic Medical Record, and precertifying procedures with the patient's insurance company. I worked closely with the RN or LPN in answering telephones, checking messages, cleaning up exam rooms, and drawing blood for laboratory tests.
Orthopedics is a very diverse field of medicine as there are geriatric patients with osteoarthritis from years of work, athletes with ACL or meniscal tears that need MRIs and possible surgeries, and pediatric patients that experience fractures from falling off of their bikes. I love that I got to interact with these different types of people and gain perspectives from patients from age one to one hundred and one. It taught me to be aware of varying cultures and generations and their beliefs, be empathetic of their pain, respect them as individuals, and treat them as more than just another distal radius fracture.
The most interesting experience I was offered in this internship was shadowing a day of surgery. I witnessed arthroscopic procedures, open reduction and internal fixations of fractures, and total joint replacements. I was impressed at the surgeons' deftness and composure as well as effective communication of the OR staff throughout each procedure; more importantly, I was able to learn how a well-oiled medical team functions in this type of setting. Ordering these patients' surgeries, observing their procedures, and removing their sutures post-operatively provided me with a holistic understanding of the patient-care process.
I am fortunate enough to have been offered a full-time position at Illinois Valley Orthopedics after graduation to accumulate clinical experience to apply to a health professional school. My experience was extremely informative, and the connections I have made have paved my path to becoming a future provider.
Jordan Tatgenhorst
College:
Caterpillar College of Engineering and Technology
Major:
Mechanical Engineering
Employer:
Komatsu America Corporation
For over 100 years, Komatsu America Corp. has been creating connections with customers that power society and develop infrastructure. They value technological innovation to empower a sustainable future and create reliable applications to support their partners. Komatsu maximizes product quality and dependability by providing crucial machinery to several industries. In Peoria IL, electric drive haul trucks are designed, manufactured, and tested.
Throughout the summer, I was always eager to learn and wanted to make the most of the experience. As a mechanical engineering intern, I had the chance to work with two teams: the System and Components group, which developed truck applications, and the Vehicle Development group, which developed new products. I enjoyed working with both teams because there was always something new to work on. There was a project that I worked on while I was a member of the System and Components group that gave me the opportunity to fly to their testing facilities in Arizona. It was an incredible opportunity to acquire knowledge about Komatsu's testing procedures and to experience flying in a professional environment.
While at Komatsu, I developed a lot of new skills. I learned how to design parts using Creo and present those concepts to a large team. I used different critical thinking techniques to learn software that is new to Komatsu with limited support. I also created testing kits, learnt how to handle test requests, and executed them. On the professional side, I discovered that I can't be an expert in everything. Being a part of a team is crucial in completing tasks and asking questions to obtain goals. Finally, I discovered that I was limiting myself and not thinking beyond the box, so I learnt how to challenge my designs and assumptions to produce better results.
Throughout the summer, I was always eager to learn and wanted to make the most of the experience. I wanted to see all what Komatsu had to offer and I was never deterred from asking questions. I applied my principles learned from my engineering courses to enabled me to complete my projects in a timely manner. I did extensive research when a problem got tough and collaborated with my team when I needed guidance. In addition, I assisted other interns in achieving their objectives by using the skills I acquired from my tasks. Fortunately, my internship at Komatsu helped me land a part-time job throughout the academic year, allowing me to expand my engineering expertise and discover new things. At Bradley, I'm a member of the Society of Automotive Engineers, and Komatsu has kindly sponsored our Formula SAE team. I was able to learn more about fabrication as a result, and I also acquired welding skills.
The most important lesson I learned from the internship is to constantly search for opportunities that aren't immediately provided to you because they often lead to the most gratifying experiences. I've always tried to explore my interests, which is how I came to be interested in Test and Systems Engineering. Overall, this internship has provided me with the lessons and resources to achieve my goals. As an intern, I've grown more comfortable speaking my thoughts and pursuing my interests without hesitation. I found through this internship that I am supposed to be an engineer and I couldn't imagine doing anything else.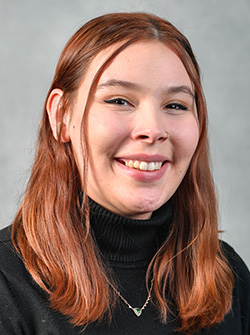 Coming into Bradley University, I was sure the path I wanted to take with my undergraduate was environmental science. As I began my coursework, I became fascinated with the world of data, computers, and analytics. My growing love for data and computers prompted me to make the drastic change to a Business Analytics major, but I was ready to dive headfirst into a new world.
In April 2022, I began my first internship as an Energy and Sustainability Intern with OSF Healthcare. Going into my experience, I was extremely nervous because I didn't know what to expect, especially in the analytics world. I quickly realized that I could combine two of my interests in a rewarding way. Upon my start, I was thrown headfirst into data. The first task I was assigned was to complete an entire revamp of a water dashboard, which contained massive amounts of data that needed to be combined. After revamping the data in Excel, I created a PowerBI dashboard to visualize trends in water data for each site throughout the ministries. Throughout my internship, I managed many large datasets, some reaching up to 700,000 rows of data. Another large project I worked on was quantifying Scope 3 greenhouse gas emissions for OSF Healthcare. This involved working closely with my supervisors and a supply chain manager to carefully sift through all purchasing data for the year 2021. These 700,000+ rows of data were grouped together into 'buckets,' and used in a standardized tool to calculate scope 3 emissions. This project not only taught me how to manage large datasets but also helped me gain an understanding of supply chain management in healthcare.
Throughout my internship, I also had a direct impact on choices made within the OSF ministries. The most notable of these datasets was food and disposables data. I was able to take Styrofoam purchase data and visualize it in PowerBI, showing the extent of just how much Styrofoam is being purchased by each hospital in the OSF Healthcare system. When presented, the data prompted managers at a hospital to be more conscious of their Styrofoam purchases. This visualization inspired these managers to take action and reduce their Styrofoam usage at this site significantly.
Despite beginning my internship when I had just begun Business Analytics coursework at Bradley, I was equipped with the tools to confidently enter my internship. I was able to expand my skill set through exposure to different data visualization tools in my internship, and apply that knowledge to my current coursework. My internship helped me to grow more comfortable with my future career, and I was able to gain experience that will be absolutely vital. It was an amazing experience that helped me combine two of my passions into one unique field I didn't even know existed prior to my internship. I got to work with an amazing team that taught me about the importance of sustainability, specifically in healthcare. They helped guide me through the world of becoming a young professional who cares deeply about what they do. I am extremely grateful that my passions were embraced and allowed to flourish in a welcoming and educational environment. I hope to continue to be involved in the bigger picture of sustainability, and in making an impact in the field through data analytics.