2021 Outstanding Co-op/Intern of the Year Award Winners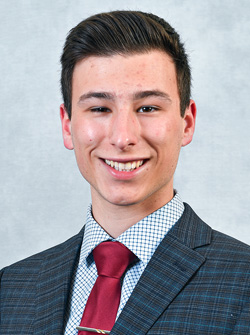 Brandon Apostal
College:
Caterpillar College of Engineering and Technology
Major:
Mechanical Engineering
Employer:
Snap-On Incorporated
At Snap-On Incorporated this past summer, I was able to pair my soft skills with my college coursework to complete a challenging and successful internship. In this role, I worked hard to break the mold of the stereotypical one-dimensional engineer by communicating often and effectively with my coworkers and the manufacturing associates. I partially owe my success in my internship to my communication and speech practicum courses at Bradley that prepared me to explain complex technical information and solutions clearly and concisely. Through applying these lessons, I recognized and embraced the power of communication to move projects forward and rally coworkers to help achieve my goals. I took the time to interact with the machine shop associates daily and used their feedback to draw conclusions about my work. These productive interactions with the employees allowed me to complete parts of my assignment months in advance. I took away from my internship and class experience that communication opens the doors to success in the industry.
Snap-on Incorporated is a high-end tool manufacturer and professional productivity solutions company. This Fortune 500 company has been around for over 100 years and operates in over 130 countries around the world. At the Milwaukee plant, there are over 400 associates and engineering staff who work to manufacture pliers, sockets, extension bars, bits, and screwdrivers. This past summer, I worked as a mechanical engineering intern with a focus on the plier production process. My main objective for my internship was to improve the quality of the plier products. I was able to accomplish this goal by reducing the handle misalignment at key steps of the manufacturing process.
During my assignment, I was required to work independently to learn manufacturing processes and industry standards. Although my classes did not cover the details of these responsibilities, my work ethic derived from my challenging curriculum taught to be curious and to problem solve. I was able to find online resources to upskill on engineering tolerances and machine basics to accomplish the goals of my internship. In addition to learning new information quickly, I was able to directly apply principles from my introductory engineering courses to my work assignment. My CAD experience from Bradley allowed me to excel in my designs of manufacturing parts and to assist the other interns with design concepts. My education at Bradley not only helped me become successful in my projects, but I was also able to help others succeed during my internship.
Reflecting on my summer at Snap-On Incorporated, I realized that Bradley mechanical engineers could benefit from exposure to manufacturing processes. In the fall of 2021, I organized an event with my student organization Engineers in Entrepreneurship to host an introduction to machining processes in the Business and Engineering Convergence Center. The students who attended were able to share in my summer work experience of learning more about designing for manufacturability. From the success of this event, I intend to continue to be an advocate for myself and my classmates to learn about manufacturing processes. During my remaining semesters at Bradley, I hope to continue to use my influence and leadership roles to provide students with opportunities to gain hands-on experience to solve real-world problems.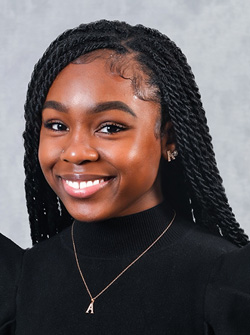 After interning at the Chicago Housing Authority during the summer of 2020, I had the privilege of being requested to return for the 2021 summer term. The Chicago Housing Authority is a municipal not-for-profit corporation governed by a Board of Commissioners consisting of ten members. The Mayor appoints the commissioners. Resident services is the department in which I interned. In addition to providing housing, CHA also offers services to its residents to improve their quality of life. The role of resident services is to support families as they strive for self-sufficiency. CHA's Resident Services Division works with a broad range of partners and contractors to provide services in various ways, centered on four overarching goals: to support academic achievement, increase earning power, foster economic independence, and enhance stability and quality of life.
As an intern, I worked with three teams under the resident services department: youth opportunities, education, and Springboard 2 Success fundraising chair. I spent my time overseeing various projects, data entry, leading meetings, managing spreadsheets, creating schedules and calendars, communicating with residents and partners, and recruiting for multiple programs and events. Notable projects I completed included being a member of the pilot scholarship committee, revising the college to career workbook, interview presentations, editing the SOAR newsletter, and planning the celebration of youth residents. My final project focused on other public housing entities and how they support their youth, education, and early learning. Overall, I provided assistance spearheading programs and events, registered residents for various purposes and causes, communicated with partners by scheduling and leading meetings, provided youth insight for our pilot scholarship committee and education strategies committee, and entered data for the fundraising board.
During this internship, I worked diligently to ensure that I would gain valuable career-related experience. With my passion for psychology, my supervisor and I sought out ways to implement aspects of my desired profession into my work. I focused heavily on assisting residents with defining and achieving their goals, monitoring their progress, and conducting research. I worked closely with our summer youth council members on their goals and important issues regarding their communities. Together we were able to flush out many ideas and compose a list of proposals to CHA on how to better the housing experience. I met weekly with the moderators of our summer programs to assess the success of the programs. I offered practical solutions to problems that allowed them to carry out a successful program. Although a part of my daily tasks, the research projects were an aspect that I truly enjoyed and worked well beyond my office hours to achieve.
Overall, the opportunity to network with professionals, learn more about a government municipal corporation, gain insight on possible future career opportunities, and more branding were ways in which I benefited most from this internship. Being at CHA allowed me to connect with CHA workers, Chicago Police Department workers, and other essential workers. Through events and partnerships, I have been able to meet celebrities and influencers throughout the world. Being a CHA resident for a little over six years, I did not know much about what it was or what they offered. This internship allowed me to learn more about the agency that provides my family and thousands of others with affordable housing. I now possess knowledge that can be applied anywhere where there is public housing. This internship was tailored towards my major. I was able to see aspects of clinical, developmental, social, and occupational psychology. This internship helped me amplify my interest in the psychology field. It strengthened my passion for clinical research. It allowed me to gain an interest in education and early learning. This has ultimately led me to have a research idea.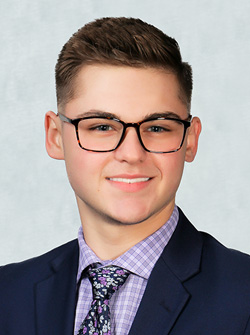 Taylor Johnson
College:
Slane College of Communications and Fine Arts
Major:
User Experience Design
Employer:
Amazon
When you first think of places to work in the Central Illinois area, your mind probably goes straight to Caterpillar, OSF, or State Farm but not big tech. When I first started my journey at Bradley University, I had always wanted to pursue a job working in technology. Still, I could never see myself living in a crowded city in California, but when the pandemic hit, I took advantage of the one positive outcome; work-from-home opportunities.
During Fall 2020 and Spring 2021, I was asked to be a User Experience (UX) designer for a NASA augmented reality research program. I created the navigational system to help astronauts know what tasks to complete, the tools needed for the job, and display their necessary health information to complete tasks safely while on the moon. That project received national news attention, I had articles published about my involvement, and I was rewarded student of the year for my department. The NASA project also led me to a coveted internship with Amazon.
During the Summer of 2021, I had the opportunity to be a User Experience (UX) Design intern at Amazon, working on the Financial Technology (FinTech) Close Systems team. The goal of our team was to maintain and improve software used by financial analysts and accountants company-wide to close monthly ledgers and maintain accuracy. During my time at Amazon, I researched, redesigned, and championed several internal applications. Due to reported slow operating times, I worked cross-functionally with engineers, accountants, and financial analysts to completely overhaul two accounting applications. Altogether, I conducted user-centered approach research with user personas, journey maps, and user tests to gather accurate data upon which I could make iterations to the previous software. I created user flows, user interface low/high-fi mockups, and final prototypes. I actively collaborated with senior-level usability specialists to interpret requirements into interactive experiences and achieved product milestones by establishing UX goals, priorities, and deliverables. My technical research findings were well received by my team, and I was asked to present my work to the directors of financial technologies. My user research, design prototyping, and testing allowed the accounting users to gain a 12% increase in application speed, all while working from the comfort of my bedroom wearing loungewear.
Even though I never got a company card for unlimited purchases or huge discounts on my orders, my time at Amazon taught me how to communicate, trust the UX process, and deliver results. Plus, I received some new Amazon attire for wearing to the office, two steps away from my bed! The experience I gained helped me land a new role as a Design Operations Program Manager at Wish, combining my research, design, and people operations skills to improve UX designers' workflow speeds and create open communication pathways on cross-functional products. I am thankful for what I was able to learn and achieve during these experiences.
Sydney Peters
College:
College of Education and Health Sciences
Major:
Nutrition and Dietetics
Employer:
Peoria Grown
Having begun my undergraduate studies as an Elementary Education major, I learned valuable skills such as lesson planning and effective teaching strategies. When I switched my major to Dietetics as a second-semester sophomore, I dove head-first into the fascinating science of nutrition. Both backgrounds within the College of Education and Health Sciences have set me up to fill the role of my internship position as Nutrition Officer at a local non-profit organization called Peoria Grown. It is as Nutrition Officer that I have had the opportunity to combine my passions for nutrition and education by making healthy, fresh produce available to people living in local food deserts, as well as helping lead nutrition education programs and classes.
During my time as an intern with Peoria Grown, I have worked on committees that have directly impacted food insecurity within the Peoria area. In January 2021, my team and I launched Market 309 in the 61605 zip code in Logan Recreation Center. On Sundays, families can come to shop over 60 varieties of fresh produce at cost. The amount of produce purchased per customer has since doubled, demonstrating an increase in the consumption of fruits and vegetables among this low-income community. Recently, Peoria Grown has expanded and opened two other Market 309s– including one on the campus of Bradley University. It is incredibly exciting to see fresh produce available and affordable to Bradley University students, as college students are a population that generally faces barriers to healthy eating such as lack of transportation, tight budgets, and limited access to kitchen space or cooking supplies.
Last summer, I created a nutrition education curriculum for Peoria Grown's first kids summer camp which ran biweekly from June through August. Topics that were covered included but were not limited to: MyPlate, fruit and vegetable consumption, nutrients that support childhood growth, and building a balanced plate. Students were also given the opportunity to tour Hyvee Sheridan Village, the Peoria Riverfront Farmers Market, and a local gardening center. I networked and recruited local Registered Dietitians and Dietetic Interns to teach our nutrition education curriculum, as well as coordinated with educators from Methodist College of Nursing to teach health education to students.
Interning with Peoria Grown has taught me a great deal about community service, food insecurity, and the dietitian's role in health promotion. As I finish up my undergraduate degree and embark on my Master's Degree in Nutrition and Dietetics, I feel extremely thankful to have the experiences I have had through my internship with Peoria Grown. As a future Registered Dietitian, I would like to utilize my expertise within the field to support individuals living in food deserts, ensuring that they have access to fresh, nutritious foods that will promote their health and contribute to community wellness now and for generations to come.
This past summer I had the opportunity to be a summer analyst at JPMorgan Chase & Co. in Chicago, IL. Being in the Middle Market Banking and Specialized Industries Group, I was able to enhance my technical skillset, learn from industry leaders and showcase my abilities. I am extremely grateful that I was able to complete this experience at one of the world's largest financial institutions and build so many new relationships along the way.
The internship was a 10-week program that was held primarily in-person at the Chase Tower in Downtown Chicago. I refer to it as a summer that I will never forget because of all the memories I made. My coworkers and mentors pushed me to be the best version of myself I could be, both professionally and personally. Not only did I reinforce my education with real world applications, but I also learned new techniques and processes.
My role was divided into three main functions: credit, treasury and banking. Within credit, I helped analyze client financial statements to evaluate their current performance and debt structures. In the treasury function, I would monitor clients' cash management and operations to see if there were opportunities to introduce a new JPMorgan product. The third function, which was my personal favorite, was banking. In this function I was able to support bankers on live financial transactions that were constantly evolving, meet with client executives and do market research.
Along with learning about the three main functions, I was also exposed to leadership seminars, internship-long projects and networking events. Everyday tested my time management and organizational skills. Additionally, there was a steep learning curve, which I enjoyed because it led me to learn more in the 10 weeks than I thought could be possible. Overall, this internship at JPMorgan Chase & Co. exceeded every expectation I had, and the skills that I learned will benefit me throughout my career.