Angela Settles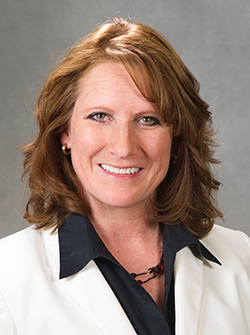 Director of the Center for Professional Excellence
Business and Engineering Convergence Center 1136
(309) 677-4423
asettles@bradley.edu
Master's Degree in Economics (Western Illinois University, 1992)
Bachelor's Degree in Economics (Western Illinois University, 1991)
Biography
Angela joined the Foster College of Business at Bradley University in 2006 as the assistant director of the Executive Development Center (EDC). With responsibilities for the coordination and oversight of talent development solutions for the flagship client, Caterpillar Inc., the relationship quickly grew to include multiple programs with global reach. Angela represented the Foster College of Business on the Caterpillar Global University Consortium where she served with representatives from the Institute for Manufacturing at the University of Cambridge and the Beijing International MBA at Peking University. There, she led the coordination and sharing of best-practices and proven content to create a global talent development solution for Caterpillar that would replicate the success of our flagship program by creating a common experience for global delivery across a tri-sphere model.
In March of 2013, Angela was promoted to director of operations, and in December of 2013 she was named director. In 2017, she led the rebranding effort, and EDC became the Center for Professional Excellence. Currently, she serves on the Strategic Leadership Team and the Business Engagement Committee in the Foster College of Business. She represents Bradley University and the Foster College of Business as chair of the leadership and professional development sub-committee on strategic alliances with both Caterpillar Inc. and OSF HealthCare.
Before joining Bradley University, Angela was a program developer in Office of Non-Credit Programs in the School of Extended and Continuing Education at Western Illinois University. There, she developed and coordinated academic youth camps, departmental conferences, professional development programs, distance learning, and workforce training. She left Western Illinois University in 1999 to raise her three children.
Angela is deeply committed to creating mutually beneficial partnerships between business and industry and the thought-leadership and expertise in the Foster College of Business and beyond. She is passionate about helping individuals, teams, and organizations increase productivity and profitability by developing skills in business and leadership. Her success in the industry is supported by efforts to remain current and relevant; her work has been recognized both nationally and locally:
1996: Recipient of the National University Continuing Education Association's Innovative Programming Award from the Division of Education for the Professions
1997: Recipient of the University Continuing Education Association's Non-Credit Program of Excellence Award from the Division of Educational Telecommunications
2012: Recipient of the Foster College of Business Leadership Award
2013, 2014, 2015: ProEd Conference on Management and Executive Education
2013, 2014, 2016: Center for Creative Leadership Network Associate Conference
2015: Quality Matters Rubrics Workshop
2016: ProEd Directors Institute
2017: ProEd Sales Institute: Crafting a Sales Strategy for Your Center
2018: Center for Creative Leadership Network Associate Conference