Mark Johlke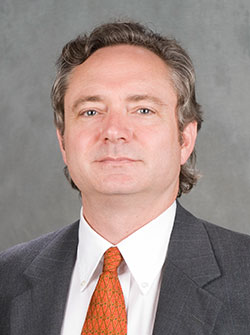 Professor, Marketing and Director of Professional Sales Program
Business and Engineering Convergence Center 4124
(309) 677-3947
mjohlke@bradley.edu
Ph D, Marketing, Texas Tech University
MBA, Marketing, Texas Tech University
BS, Psychology – Sam Houston State University
Biography
Dr. Johlke has been a member of the Marketing faculty at Bradley University since 2003. Prior to entering academe he worked in sales in the computer hardware and software industries.
Teaching
Marketing Presentations – MTG 205
Professional Selling – MTG 304
Advanced Professional Selling – MTG 404
Experiential Learning in Sales – MTG 493
Selling & Sales Management – MTG 644
In 2007, Dr. Johlke received the MPG Ingredients Innovation in Teaching Award to recognize his efforts in developing and directing the Professional Sales Program.
In 2013, Dr. Johlke received the Chair's Citation for Excellence to recognize his leadership experiences with external professional and academic marketing organizations.
Scholarship
Dr. Johlke's primary research areas are sales manager-salesperson communication, salesperson selling skills, and organizational and sales force culture and environment.
Selected Peer-Reviewed Journal Articles in the Last Five Years
Johlke, Mark C. and Rajesh Iyer (2020), "Antecedents and Outcomes of Salesperson Internal Customer Mind-Set," Journal of Managerial Issues 32 (3), 318-333.
Johlke, Mark C. and Rajesh Iyer (2017), "Customer Orientation as a Psychological Construct: Evidence from Indian B-B Salespeople," Asia-Pacific Journal of Marketing and Logistics, 29 (4), 704-720.
Iyer, Rajesh, and Mark C. Johlke (2015), "The Role of External Customer Mindset Among Service Employees," Journal of Services Marketing, 28 (1), 38-48.
Leadership in Academic Societies
President, University Sales Center Alliance, 2013 - 2015
Chair, American Marketing Association Sales SIG, 2013 - 2015
Board Member, Sales Education Foundation, 2011 - 2013
Officer, Vice President, University Sales Center Alliance, 2011 - 2013
American Marketing Association Sales SIG, 2010 - 2012
Board Member, National Conference in Sales Management, 2001 - 2011
Chair, National Conference in Sales Management, 2009 - 2011
Service
American Marketing Association Sales SIG

Chair, 2013-2014
Vice Chair for Programming, 2012-2013
Vice Chair for Recognition & Awards, 2010-2012
Member, 2010-Present

University Sales Center Alliance

President, 2013-2015
Vice President, 2011-2013
Task Force Chair - Teaching, 2010-2011
Task Force Chair – Research, 2010-2011
Member, 2005-Present

National Conference in Sales Management

Executive Director, 2010-2011
Board Member, 2001-2011
Program Chair, 2007-2009
Proceedings Editor, 2006
Doctoral Student Track Chair, 2004-2005

Sales Education Foundation

Advisory Board Member, 2011-2013

Editorial Review Board Member, Journal of Personal Selling & Sales Management, 2002 – Present
Editorial Review Board Member, Journal of Selling and Major Account Management/ Journal of Selling, 2005 – Present
Editorial Review Board Member, Journal of Marketing Theory and Practice, 2012 - Present
Editorial Review Board Member, Journal of Managerial Issues, 2016 – Present.
Sales Track Chair, 2007 Southern Marketing Association
Session Chair, 2010 AMA Winter Educator's Conference
Session Chair, National Conference in Sales Management, 1999 - 2005
Judge, World Collegiate Sales Open contest, 2010, 2011
Ad Hoc Reviewer, European Journal of Marketing, 2007 - Present
Ad Hoc Reviewer, Journal of Managerial Issues, 2003 - 2016
Ad Hoc Reviewer, Journal of Marketing, 2006 – 2008
Ad Hoc Reviewer, Journal of Marketing Theory and Practice, 2006 - 2012
Reviewer, Conference Paper, American Marketing Association Summer Educator's Conference, 2004, 2005, 2006, 2007, 2010, 2012, 2013, 2015, 2016, 2019
Reviewer, Conference Paper, American Marketing Association Winter Educator's Conference, 2004, 2005, 2006, 2007, 2008, 2009, 2017
Reviewer, Conference Paper, AMS Conference, 2005, 2006, 2007, 2008, 2009, 2010, 2011, 2012, 2013
Reviewer, Conference Paper, AMS World Marketing Congress, 2005, 2010, 2011, 2019
Reviewer, Conference Paper, National Conference in Sales Management, 2011, 2012, 2013, 2014, 2016, 2017, 2018, 2019, 2020
Reviewer, Conference Paper, Global Sales Science Institute Conference, 2008, 2009, 2012, 2015, 2017, 2018, 2020
Reviewer, Conference Paper, Southern Marketing Association/Society for Marketing Advances, 2005, 2010, 2015, 2019
Reviewer, Conference Paper, European Marketing Association Conference - Sales Track, 2005, 2007, 2008, 2009, 2010