Lucy Wenxiang Lu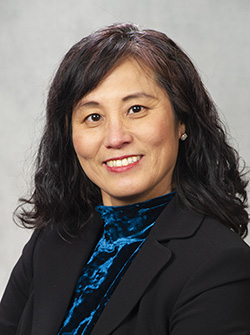 Associate Professor, Accounting
Business and Engineering Convergence Center 2162
(309) 677-2290
wlu@bradley.edu
Ph.D., University of Texas at Arlington
M.S., University of Nevada, Las Vegas
B.A., Gansu University of Technology
Biography
Lucy Lu joined Bradley University as an assistant professor in the Department of Accounting in 2014. She has worked in various industries and has work experience in both corporate and public accounting in the areas of auditing, taxation, litigation support, and corporate consolidated financial statements. Dr. Lu is a CPA and a member of the American Accounting Association and Beta Gamma Sigma.
Teaching
Dr. Lu's teaching interests are in the areas of financial and managerial accounting. She currently teaches Intermediate Accounting I and II (ATG 301 and ATG 302) and Accounting Principles - Cost Management (ATG 158). Prior to joining Bradley University, she taught managerial accounting and accounting for managers at the University of Texas at Arlington.
Scholarship
Dr. Lu's research interests include sustainability reporting, corporate governance, and international accounting issues. Her work has appeared in American Accounting Association's journals, such as the Journal of International Accounting Research (JIAR).
Selected Peer-Reviewed Journal Articles in the Last Five Years
Lu, W., & Taylor, M. E. (2015). Which factors moderate the relationship between sustainability performance and financial performance? A meta-analysis study. Journal of International Accounting Research, 15(1), 1-15. https://doi.org/10.2308/jiar-51103
Lu, L. W., & Taylor, M. E. (2018). A study of the relationships among environmental performance, environmental disclosure, and financial performance. Asian Review of Accounting, 26(1), 107-130.
Research Awards
"Texas Public Education Graduate Grant", Texas, 2012 - 2013
"UT Arlington Doctoral Grant", University of Texas at Arlington, 2011 - 2012
"Scholar of teaching and learning (SoTL) Grant", Bradley University, 2017-2018
Practice in Field
Corporate and Organizational Board Memberships
Member, International Association for Accounting Education and Research. (May 2013 - Present).
Member, American Accounting Association. (March 2010 - Present).
Member, Institute of Management Accountants (August 2017-Present)
Service
Dr. Lu serves as a discussant and reviewer at conferences. She also serves as a reviewer for academic journals. Dr. Lu is also a member of the Foster College of Business Undergraduate Curriculum Committee (UCC) and University Sub Committee on Regulations and Degree Requirements (RDR).
Licensures and Certifications
Dr. Lu is a Certified Public Accountant (CPA) in California, Texas, and Illinois.