Heidi Baumann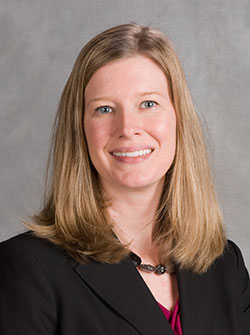 Associate Professor, Management and Leadership
Business and Engineering Convergence Center 3126
(309) 677-2385
hbaumann@bradley.edu
Ph.D., Organizational Behavior and Human Resource Management, Purdue University
M.B.A., Bradley University
B.S., Computer Science, Truman State University
Biography
FIRST GENERATION STUDENT
Heidi joined the Foster College of Business at Bradley University in August 2013. Prior to pursuing a Ph.D. and a full-time career in academia, Heidi worked for two Fortune 500 companies, Caterpillar Inc. and State Farm Insurance.
Teaching
Dr. Baumann teaches undergraduate, MBA, and executive MBA courses on topics such as leadership, motivation, performance management, and work-life boundary management. She also works with the Center for Professional Excellence to deliver executive and professional development programs. In her teaching, she focuses on covering topics in a way that will help students prepare for their future careers or manage issues in their present jobs. Heidi draws on her work experience and research expertise when teaching, while promoting an interactive classroom where students can learn from a discussion of their own and others' experiences.
Scholarship
Heidi's primary research interests include studying the work-family interface and employee performance management and development. In addition, she thoroughly enjoys learning new and interesting research methods and analysis techniques. Heidi was a recipient of the Bilsland Dissertation Fellowship for her dissertation research, which examines how work and family roles can both conflict with and enrich one another. She has published in leading scholarly journals, including the Academy of Management Journal, Journal of Applied Psychology, Personnel Psychology, and Journal of Management.
Selected Peer-Reviewed Journal Articles in the Last Five Years
Schleicher, D. J., Baumann, H. M., Sullivan, D. W., & Yim, J. (2019). Evaluating the effectiveness of performance management: A 30-year integrative conceptual review. Journal of Applied Psychology, 104, 851-887.
Wilson, K. S., Baumann, H. M., Matta, F. K., Ilies, R., & Kossek, E. E. (2018). Misery loves company: An investigation of couples' interrole conflict congruence. Academy of Management Journal, 61, 715-737.
Schleicher, D. J., Baumann, H. M., Sullivan, D. W., Levy, P. E., Hargrove, D. C., & Barros-Rivera, B. A. (2018). Putting the system into performance management systems: A review and agenda for performance management research. Journal of Management, 44, 2209-2245.
Robin, J., Baumann, H. M., & Kotik, J. (2018). Identity coactivation: Person and situation influences and the mediating role of experienced conflict. Journal of Applied Social Psychology, 48, 411-423.
Weinzimmer, L. G., Baumann, H. M., Gullifor, D. P., & Koubova, V. (2017). Emotional intelligence and job performance: The mediating role of work-family balance. Journal of Social Psychology, 157, 322-337.
Wilson, K. S., & Baumann, H. M. (2015). Capturing a more complete view of employees' lives outside of work: The introduction and development of new inter-role conflict constructs. Personnel Psychology, 68, 235-282.
Research Awards
"Rosabeth Moss Kanter Award for Excellence in Work-family Research" Finalist, Center for Families at Purdue University / Boston College Center for Work & Families, 2019
"Professional Development Award", Foster College of Business, 2018
"Best Symposium Award" Finalist, Careers Division, Academy of Management, 2017
"Research Excellence Award", Bradley University, 2014
"Bilsland Dissertation Fellowship", Purdue University, 2012
"Purdue Doctoral Fellowship", Purdue University, 2009
Service
Dr. Baumann is a member of the University Strategic Planning Committee and the Research and Teaching Committee, and she regularly serves as a head judge at Bradley University's Student Scholarship Expo. She has served as an ad hoc reviewer for Personnel Psychology, Journal of Vocational Behavior, Human Resource Management, and Africa Journal of Management and as a member of the 2020 international review committee for the Rosabeth Moss Kanter award for Excellence in Work-Family Research.
Professional Memberships:
Academy of Management (AOM)
Society for Industrial and Organizational Psychology (SIOP)
Work and Family Researchers Network (WFRN)
Southern Management Association (SMA)