Jacob Young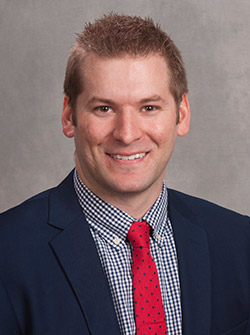 Director, Center for Cybersecurity, Associate Professor of Management Information Systems
Business and Engineering Convergence Center 3134
(309) 677-3718
jayoung@bradley.edu
D.B.A., Computer Information Systems, Louisiana Tech University
M.B.A., Henderson State University
B.S., Aviation, Henderson State University
Biography
Dr. Young is an associate professor of management information systems in the Foster College of Business and the director of the Center for Cybersecurity at Bradley University. He earned his D.B.A. in Computer Information Systems from Louisiana Tech University. He serves as a Senior Advisor on Cybersecurity at the National Whistleblower Center in Washington, D.C.
Professional Experience
Academic Experience
Associate Professor, Bradley University, 2021 – Present
Assistant Professor, Bradley University, 2015 - 2021
Graduate Assistant, Louisiana Tech University, 2012 - 2015
Graduate Assistant, Henderson State University, 2008 – 2009
Honors and Special Recognition
Best Paper Honorable Mention, Journal of Information Systems Education, 2020
Caterpillar Faculty Achievement Award for Teaching, Bradley University, 2020
Student Organization Advisor of the Year, Foster College of Business, 2017
2nd Place, Graduate Division, Louisiana Tech University Undergraduate/Graduate Research Symposium, 2013
Professional Memberships
Decision Sciences Institute
Association for Information Systems
Society of Corporate Compliance and Ethics
Association of Certified Fraud Examiners
Federation of Business Disciplines
Teaching
Currently Teaching
MIS 173 – Introduction to Business Analytics
MIS 373 – Applied Networking
MIS 379 – Information Systems Security
MIS 383 – Advanced Ethical Hacking
Scholarship
Dr. Young conducts research on privacy, security, and anonymity issues related to information systems with a primary focus on anonymous whistleblowing systems.
Selected Peer-Reviewed Journal Articles in the Last Five Years
Young, J.A., Courtney, J.F., Bennett, R.J., Ellis, T.S., & Posey, M.C. (2021) "The Impact of Anonymous, Two-Way, Computer-Mediated Communication on Perceived Whistleblower Credibility," Information Technology & People 34(3), 1119-1151.
Young, J.A., Smith, T.J., & Zheng, S.H. (2020) "Call Me BIG PAPA: Extending Mason's Information Ethics Framework to Big Data," Journal of the Midwest Association for Information Systems 2020(2), Article 3, 17-41.
Young, J.A. (2020) "The Development of a Red-Teaming Course," Journal of Information Systems Education 31(3), 157-178.
Young, J.A., Biros, D.P., Schuetzler, R.M., Smith, T.J., Stephens, P.R., Syler, R.A., & Zheng, S.H. (2020) "When Programs Collide – A Panel Report on the Competing Interests of Analytics and Security," Communications of the Association for Information Systems 46(5), 584-602.
Stephens, P.R., & Young, J.A. (2020) "Real-Time Visual Analytics - An Experiential Learning Activity for Undergraduates," Information Systems Education Journal 18(6), 4-12.
Marcum, T.M. & Young, J.A. (2020) "Defining the Whistleblower: The Digital Realty Case and Proposed Legislation," Richmond Journal of Law & Technology 26(3), 1-23.
Young, J.A. & Young, K.M. (2019) "Don't Get Lost in the Crowd: Best Practices for Using Amazon Mechanical Turk in Survey and Experimental Research," Journal of the Midwest Association for Information Systems 2019(2), Article 2, 7-34.
Marcum, T.M. & Young, J.A. (2019) "Blowing the Whistle in the Digital Age: Are You Really Anonymous? The Perils and Pitfalls of Anonymity in Whistleblowing Laws," DePaul University Business & Commercial Law Journal 17(1), 1-38.
Burns, A. J.; Young, J.A.; Roberts, T.L.; Courtney, J.F.; and Ellis, T.S. (2015) "Exploring the Role of Contextual Integrity in Electronic Medical Record (EMR) System Workaround Decisions: An Information Security and Privacy Perspective," AIS Transactions on Human-Computer Interaction 7(3), pp. 142-165.
Service
Faculty Advisor
Bradley Information Technology Students, 2021 – Present
Association of Information Technology Professionals, 2016 – 2021
Editorial Board
Journal of the Association for Information Systems, special issue on Data Analytics for Social Goods, 2021
Reviewer
Dewald Roode Workshop on Information Systems Security Research, 2021
Journal of Communication, Information & Ethics in Society, 2019, 2021
EDSIG Conference on Information Systems & Computing Education, 2019, 2021
Midwest Association for Information Systems Conference, 2017 – 2020
International Conference on Information Systems, 2013, 2015, 2016, 2021
Americas Conference on Information Systems, 2015 – 2017, 2020
Annual Meeting of the Decision Sciences Institute, 2013 – 2014
Secretary
Midwest Association for Information Systems, 2020 – 2021
Conference Chair
Midwest Association for Information Systems Conference, 2021
Program Chair
Midwest Association for Information Systems Conference, 2020
Conference Committee Member
Midwest Association for Information Systems Conference, 2019
Panel Moderator
Midwest Association for Information Systems Conference, 2019
Session Chair
Midwest Association for Information Systems Conference, 2017