Apparel Production and Merchandising
As an apparel production and merchandising major, you learn the business and creative processes behind the fashion industry.
Preparing You For Success
You begin to explore the industry your freshman year. Courses teach you about apparel analysis, product development, consumer behavior, merchandising, textiles and other industry topics. Learning continues outside class through internships, community-focused projects and campus organizations.
By the time you graduate, your experiences include:
A minor in marketing or management and leadership
Research opportunities with faculty
Professional internships across the globe
An optional study abroad semester in Europe
Networking and professional development in student organization Fashion Focus and honor society Kappa Omicron Nu
Making Your Mark
Apparel production and merchandising graduates are in demand as designers, brand experts, business analysts and product buyers. Recent graduates are working for Nike's corporate headquarters, Disney resorts, Best Buy and Von Maur.
Major Requirements
Family and Consumer Sciences Core - 12-15 hrs.
FCS 100: Family Dynamics - 3 hrs.
FCS 220: Consumer Issues in Health Care - 3 hrs.
or FCS 300: Consumer Issues in America - 3 hrs.
FCS 310 and 311: Community Program Planning and Evaluation - 6 hrs.
or FCS 346: Resource Management - 3 hrs.
FCS 442: Foundations of FCS - 3 hrs.
Additional Required FCS Courses - 31 hrs.
FCS 131: The Fashion Industry - 3 hrs.
FCS 133: Apparel Production - 3 hrs.
FCS 233: Consumer Textiles - 3 hrs.
FCS 235: Apparel Product Development and Analysis - 3 hrs.
FCS 330: Fashion Merchandising - 3 hrs.
FCS 331: Merchandising Lab - 1 hr.
FCS 333: Advanced Textiles - 3 hrs.
FCS 334: Visual Merchandising and Promotions - 3 hrs.
FCS 336: History of Fashion - 3 hrs.
FCS 337: Clothing and Human Behavior - 3 hrs.
FCS 438: Global Issues of Textile and Apparel - 3 hrs.
Required Supporting Courses - 6 hrs.
ART 227: Basic Graphic Design - 3 hrs.
MTG 381: Integrated Marketing Communications - 3 hrs.
or COM 220: Advertising as Communication - 3 hrs.
Required Minor (choose one) - 15 hrs.
Contact Information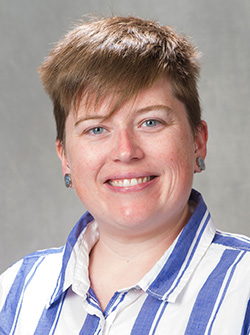 Apparel Production and Merchandising Program Director
Bradley Hall 5
(309) 838-2437 (cell)
ckeist@bradley.edu
Course Sequence
Sample program plan information is provided for sample purposes only. Students should consult with their academic advisor about their individual plan for course registration and completion of program requirements.
Freshman - Fall Semester
FCS 100
Family Dynamics
3 hours
FCS 131
The Fashion Industry
3 hours
EHS 120
Introduction to the Hospitality Industry
1 hour
BCC
Core Course
3 hours
BCC
Core Course
3 hours
BCC
Core Course
3 hours
Total
16 hours
Freshman - Spring Semester
FCS 133
Apparel Production
3 hours
BCC
Core Course
3 hours
BCC
Core Course
3 hours
BCC
Core Course
3 hours
BCC
Core Course
3 hours
Total
16 hours
Sophomore - Fall Semester
FCS 233
Consumer Textiles
3 hours
ART 227
Hospitality Seminar I
3 hours
PSY 104
Elective
3 hours
BA/BS
Elective
3 hours
BCC
Core Course
3 hours
Total
15 hours
Sophomore - Spring Semester
FCS 333
Apparel Product Development and Quality Assurance
3 hours
FCS 346
FCS Resource Management
3 hours
BA/BS
Elective
4 hours
BCC
Core Course
3 hours
BCC
Core Course
3 hours
Total
16 hours
Junior - Fall Semester
FCS 235
Apparel Product Development and Analysis
3 hours
FCS 330
Fashion Merchandising
3 hours
FCS 331
Fashion Merchandising Laboratory
1 hour
BA/BS
Elective
3 hours
BCC
Core Course
3 hours
BCC
Core Course
3 hours
Total
16 hours
Junior - Spring Semester
FCS 300
Consumer Issues in America
3 hours
FCS 336
History of Fashion
3 hours
FCS 341
or FCS 342
or FCS 440
Human Development Through the Lifespan
Child Development Laboratory
Family Relations
3 hours
BA/BS
Elective
3 hours
BCC
Core Course
3 hours
Total
16 hours
Senior - Fall Semester
FCS 357
Housing and Interior Design Concepts
3 hours
FCS 438
Global Issues in Textiles and Apparel
3 hours
MTG 381
Elective
3 hours
FCS
Elective
3 hours
BA/BS
Elective
3 hours
Total
15 hours
Senior - Spring Semester
FCS 334
Visual Merchandising
3 hours
FCS 442
Foundations of FCS
3 hours
FCS 460
Practicum in Family & Consumer Sciences
3 hours
FCS
Electives
3 hours
BA/BS
Elective
3 hours
Total
15 hours
Total Hours: 123