Dan Dietrich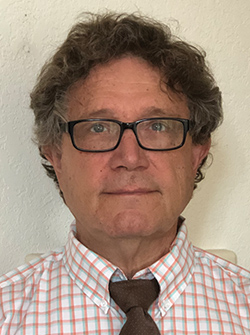 Biography
Dan Dietrich holds both Bachelor's and Master's Degrees in Music Education from Illinois State University. In 2010, Dan retired after 33 years of teaching, 30 of which he spent as the Director of Bands at Illinois Valley Central High School of Chillicothe. The IVC Band has been well known around the State due to the quality of its well rounded program and its numerous appearances at State and National Events. Under his direction the Marching Grey Ghosts were Class State Champions 12 times and placed six times. In 2003, IVC was the first band in 19 years to win both its class at the State of Illinois Marching Band Championship and the coveted Governor's Trophy at the University of Illinois Marching Band Festival. IVC Bands have performed at the Holiday Bowl, Fiesta Bowl, Gator Bowl, Indy 500 Parade and Race, Holland Michigan Tulip Festival Parade, The Kentucky Derby Parade, the Citrus Bowl Parade, Mount Rushmore, the National Memorial Day Parade, Washington DC and the Hui Ana Parade in Honolulu. The IVC Band program had three concert units under his direction. The top Band, the IVC Wind Ensemble, received only Superior Ratings at State contest and performed at the Illinois Music Educator's Conference, Western Illinois University Band Showcase, and State PTA, American Legion and Township Officials Conventions. The IVC Jazz Band One consistently placed in the top three at the prestigious "Jazz in the Meadows" festival and was a finalist in 2008. That same year this group was a featured performer at the Illinois Music Educator's Conference.
In 2003 Dan received the Friend of Youth Award from the Chillicothe Optimist Club. He has received Distinguished Service Awards from the Illinois High School Association and the Illinois Music Educators Association. In 2007, Dan received the Outstanding Music Educator Award from the National Federation of High Schools for his service to interscholastic music programs.
While at IVC, Dan worked with nearly 60 student and novice teachers from the universities and colleges of Illinois and Iowa. Since retirement, he has worked with another 30 and is in demand as a mentor for area band directors. He has served as guest conductor for numerous honor, conference, and ILMEA ensembles around the state of Illinois.
Since retiring, Dan has been a low brass instructor for Normal West, Deer Creek Mackinaw, Streator and Metamora High Schools. Currently he is the assistant Marching Band director and Jazz Band director at Washington Community High School. He is an active arranger and drill writer for area marching bands and has been the Prairie Wind Ensemble's and the Central Illinois Jazz Orchestra's bass trombonist. He served as President of the PWE for 7 years and has been a featured soloist five times. In 2016, Dan served a year as Acting Assistant Director of Bands at Illinois State University where he conducted the Symphonic Band. He has also served on the faculty at ISU as a Student Teacher Supervisor.