Rachel Borton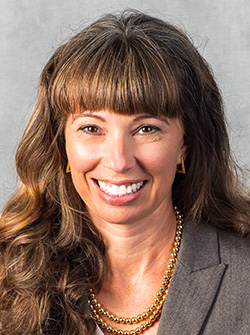 Department Chairperson, Assistant Professor
Westlake Hall 105A
(309) 677-4176
rborton@bradley.edu
Ph.D., Doctor of Philosophy, Illinois State University
MSN, Family Nurse Practitioner from the University of Phoenix
BSN, Nursing from Bradley University
Biography
Professor Borton joined the Bradley University Department of Nursing Faculty in January 2010 as a part-time clinical instructor. In February 2011, she joined the faculty as a full-time Assistant Professor of Nursing. In August 2015, she became the FNP Director.
Dr. Borton received her Ph.D. in Nursing at Mennonite College of Nursing, Illinois State University, her MSN-FNP at University of Phoenix, and her BSN from Bradley University.
Hobbies
Dr. Borton enjoys spending time with her husband and four children and also loves running outside. Serves as a church pianist and Junior Church Pageant Director at Bible Baptist Church, Peoria, Il since 2007.
Teaching
Dr. Borton has been lead faculty for FNP focused concentration courses: Advanced Health Assessment (NUR 600), Primary Care Acute Conditions Across the Lifespan I (NUR 676), Professional Aspects of Advanced Nursing Practice (NUR 690) and also the DNP project courses DNP Practice Seminar I (NUR 625) and DNP Practice Seminar III (NUR 725). Prior teaching at Bradley included undergraduate nursing courses such as: Maternal-Newborn Nursing (NUR 306 & NUR 307), Health Assessment (NUR 204), and Adult Health Medical-Surgical Practicum (NUR 207).
Scholarship
Borton, R., Smith, K., Grugan, A. (2023). Presentation of a Type-B Aortic Dissection in a

Healthy Young Female.

MedSurg Nursing Journal, 330, 17. Journal Article,

Professional Journal.

Smith, K., Newell, A., Grugan, A., Borton, R. (2023). Arriving at the diagnoses of microscopic colitis: One patient's journey. MEDSURG Nursing. Journal Article, Professional Journal.
Borton, R., Smith, K., Grugan, A. (2022). Piloting an On-Campus Skills Bootcamp for Online FNP Students. Nurse Educator, 47(4), 1.
Grugan, A., Borton, R., Tupper, G. (2022). Planning for Department Succession: Anticipating a Gap in Leadership. The Department Chair, 32(4), pg. 10. Journal Article, Professional Journal.
Newell, A., Borton, R., NIPNET Conference 2021, "Collaborative education and health sciences graduate interdisciplinary scholarship of teaching and learning (SoTL) project," Nordic Interprofessional Network, International- virtual conference. (April 2021). Poster, peer reviewed, accepted.
Borton, R., & Clark, J. (2020). "The Nurse Practitioners Substance Use Disorder MedicalEducation (NPSUDMedEd) Course Grant." AMERICAN SOCIETY OF ADDICTION MEDICINE (ASAM).
Service
University: Dr. Borton serves as a DON Senator for University Faculty Senateand also, on the Online Education Advisory Committee.
College: Dr. Borton served on the Gender Equity Task Force Committee.
Department: Dr. Borton serves on the Graduate Curriculum Committee and previous Committee Chair, Program Evaluation Committee, and the department Search Committee.
External: Dr. Borton serves on the interprofessional and community Breast Health Task Force, served on the interprofessional Rural NP Clinical Placements Committee, and serves as the pianist and pageant director for her church.
Licensures and Certifications
ANCC (American Nurses Credentialing Center) board-certified, as an Advanced Practice Nurse, specializing in Family Practice.
APN (Advanced Practice Nurse), specializing in Family Practice
FPA (Full Practice Authority) in the State of Illinois