Sokonie Reed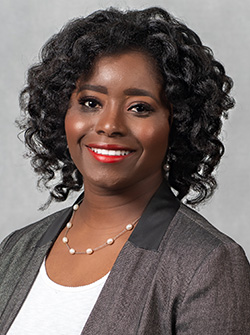 Assistant Professor of Nursing
Burgess Hall 212
309-677-2576
sfreeman@bradley.edu
D.N.P., Leadership from Bradley University
M.S.N., Administration from Bradley University
B.S.N. from Bradley University
Biography
Dr. Reed joined the Bradley University Department of Nursing faculty in August 2011. She is the first full-time faculty member in Bradley's history to have earned a bachelor's, master's and doctorate degree from the institution. Professional background includes over 15 years of clinical practice in various areas including adult medical-surgical, oncology/hematology, hospice, orthopedics, and long-term acute care. Dr. Reed has held nursing positions at numerous medical centers throughout the nation in her experience as a travel nurse. She also has experience in staff development as an Education Coordinator. She is a member of the Sigma Theta Tau International Honor Society, National League for Nursing, and Nurses Christian Fellowship.
Dr. Reed serves the Department of Nursing by assuming classroom, practicum, and online teaching responsibilities. Over the years she has developed, supervised, facilitated, and evaluated learning experiences for students on the sophomore, junior, and senior level of the nursing program.
Dr. Reed's doctor of nursing practice scholarly project involved promoting PREP in primary care practice for the prevention of HIV transmissions. Her Master's research involved interviewing nurse managers to investigate their perceptions and experiences with human dignity.
Areas of interests include human experiences, community/public health, interprofessional collaboration, experiential learning, and innovative education.