Kirsten Boyer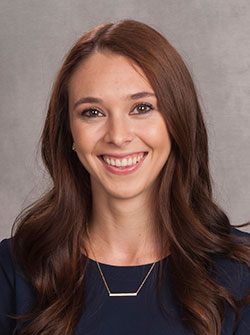 Undergraduate Program Director, Assistant Professor in Residence
Westlake Hall 105A
(309) 677-4206
kboyer@bradley.edu
M.S.N., Nursing Education from Bradley University
B.S.N. from Bradley University
Biography
Kirsten Boyer joined the Bradley University Department of Nursing as an adjunct faculty member teaching maternal-newborn clinicals in 2014.
In 2015, she joined the faculty as a full time Assistant Professor of Nursing and currently teaches and coordinates the maternal-newborn theory and clinical courses for junior-level nursing students. In addition, she teaches a senior seminar course to prepare students for the nursing licensure exam and a women's health course for undergraduate students in various majors across campus. She was a core faculty in the simulation curriculum for seven years. In 2022, she became the Undergraduate Program Director for Nursing.
Professor Boyer received her Master of Science in Nursing Education from Bradley University. She has a Bachelor of Science in Nursing from Bradley University as well. Before coming to Bradley, Kirsten worked in the Family Birthing Center at OSF Saint Francis Medical Center in Peoria, IL. She was a registered nurse and charge nurse in postpartum, newborn nursery, and labor and delivery. She also served as the co-chair on the Professional Nursing Council and instructed classes for expectant parents in the community.
Professional Experience
Professor Boyer has been a member of Sigma Theta Tau International Honor Society of Nursing Epsilon Epsilon Chapter since 2010. She has served the Epsilon Epsilon Chapter in the role of faculty counselor since 2016.
She is also an active member on the Illinois Breast and Cervical Cancer Prevention Coalition and Central Illinois Breastfeeding Task Force.
Teaching
Maternal-Newborn Nursing Theory
Women and Health
Senior Seminar
Role Exploration Clinical
Scholarship
"Text-Messaging: An Educational Intervention to Increase Maternal Self-Efficacy in Adolescent Primipara Mothers" Directed Research
"Childbirth Across Cultures" Oral Presentation
Faculty Mentor; Midwest Nursing Research Society (MNRS). Undergraduate Student Poster, Nursing Practice of BSN and ADN Degree Nurses: A Comparative Literature Review
Research interests include the maternal-newborn population, breastfeeding, innovative teaching strategies, facilitating optimal learning environments in both the classroom and clinical setting.
Service
University
Professor Boyer is the Faculty Advisor for the Bravettes Dance Team and a faculty supervisor for vaccine clinics on campus.
College
Professor Boyer has served on the Education and Health Sciences Curriculum & Regulations Committee since 2019.
Department
Professor Boyer has chaired the Undergraduate Curriculum committee and served on the Policy and Bylaws committee. She has also served as a faculty mentor to new nursing faculty.
Licensures and Certifications
Registered Nurse, Illinois
Basic Life Skills
Advanced Cardiac Life Support
Neonatal Resuscitation Program
S.T.A.B.L.E Program