Kelly Fogelmark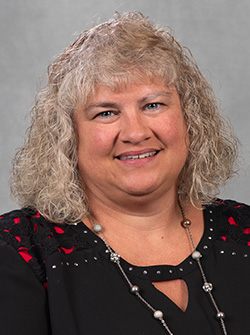 Assistant Professor in Residence
Burgess Hall 209
(309) 677-2541
kfogelmark@bradley.edu
DNP Leadership: Saint Francis Medical Center College of Nursing – 2019
MSN: Saint Francis Medical Center College of Nursing – 2010
BSN: Saint Francis Medical Center College of Nursing – 2007
ADN: Northland Pioneer College - 2004
Biography
Dr. Fogelmark joined Bradley University Department of Nursing in August 2020 as an adjunct clinical faculty member. In August 2021, she joined the faculty as a full time Assistant Professor of Nursing in the DNP program.
Prior to joining the team at Bradley, she taught at Saint Francis College of Nursing in Peoria, IL. Her background and experience are in medical-surgical nursing with a focus on orthopedics. She was a staff nurse on the ortho unit and in the Case Management Department at Saint Francis Medical Center. Her doctoral research involved communication between students and staff on a clinical unit.
Dr. Fogelmark is blessed with an amazing husband and four wonderful children. She enjoys sports, ghost hunting, and traveling in her free time.