Kelly Fogelmark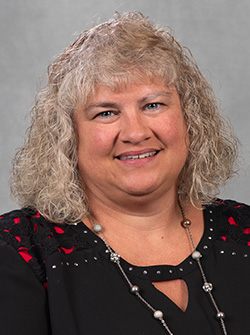 Assistant Professor
Westlake Hall 105A
(309) 677-2541
kfogelmark@bradley.edu
DNP: Leadership: Saint Francis Medical Center College of Nursing Peoria, IL. 2019
MSN: Saint Francis Medical Center College of Nursing Peoria, IL. 2010
BSN: Saint Francis Medical Center College of Nursing Peoria, IL. 2007
ADN: Northland Pioneer College Show Low, AZ. 2004
Biography
Obtained an associate degree in nursing in Arizona, and moved back to Peoria to begin practice. Worked as a bedside nurse in orthopedics and case management. Enjoyed working with the students during clinical on the orthopedic unit, and was encouraged to return to school in order to obtain a Masters Degree and teach students. Worked as a professor in an undergraduate program for 11 years, and joined Bradley University in 2021 in the Graduate Program. I love my job and the Department of Nursing at Bradley!
Hobbies
Enjoy spending time with my family, attending sporting events (Detroit Lion Season Ticket Holder), concerts, travel and ghost hunting.
Teaching
Nursing Theory
Healthcare Policy
All 4 levels of the Seminar Courses
Philosophy
I love the ability to work with nursing students. Helping them realize the potential within themselves, and working with them to increase their knowledge, confidence and leadership. I want to help the students become nurses I want caring for myself and my family in the future!
Scholarship
Creation of a Tool to Enhance Communication between the Nurse and Student in the Clinical Setting.
Service
Bradley University
Core Curriculum
Nursing Department
Continuing Education
Policy & Bylaws
Vice-President Sigma Theta Tau Epsilon Epsilon Chapter
Community
Can Shaker, Chillicothe St. Jude Run Team
Volunteer, Brad Wallin Tournament
Make-A-Wish: Peoria Area Regional Council Member
Make-A-Wish: Wish Granter