Alex Copeland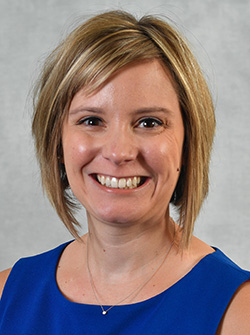 Assistant Professor in Residence
Westlake Hall 105A
(309) 677-2545
arcopeland@bradley.edu
Master of Science in Nursing Education, Western Governors (2022)
Baccalaureate of Science in Nursing, Saint Francis Medical Center College of Nursing (2014)
Associate of Science in Arts, Illinois Central College (2012)
Biography
As the youngest family member in my household, I was surrounded by family members integrated into the healthcare world. My family members helped to identify my calling in the nursing field. I started my healthcare journey as a Certified Nurse Assistant that I obtained in high school and continued to work towards becoming a BSN RN. Once I obtained my RN license, I worked in various areas such as medical-surgical nursing, and ambulatory settings with pulmonology/critical care and neurology as a clinical supervisor. As I had various roles within nursing, education was my favorite role to expand new knowledge to others entering the field. This led me to pursue my Master of Science in Nursing Education. I have been with Bradley University since August 2022.
Hobbies
Outside of work, I enjoy spending time with my husband, Chad, and my son, Ben. We enjoy being active outdoors and trying out new things. I also enjoy listening to podcasts and reading books in my leisure time. Coming from a large family, we enjoy spending time with all of my nieces and nephews any chance we get.
Teaching
NUR 203- Fundamentals of Nursing-Practicum
NUR 363- Introduction to Personal and Community Health
NUR 409-Senior Practicum 1
Teaching Philosophy
It's important to understand that nursing is a teamwork approach to help care for others. We rely on each other to help make our patients feel better and equipped with all the tools. I always encourage my students, "We never know what the patients' experience was like before we met them, therefore it's important to ensure that our time with the patient is best equipped with a caring and kind heart."
One of the things that I love about teaching is that I am constantly learning from others in the field too. Nursing and healthcare are constantly changing, so it is important to reflect those changes in our nursing practice. My favorite part about teaching is when working with a student on a concept or skill and they gain the confidence to master it or apply it to his/her practice. It's an enlightening moment to see the pride and joy on the student's faces.
Service
Bradley University Undergraduate Curriculum Committee August 2022 to present
Sigma Theta Tau International Honor Society of Nursing member August 2022 to present
National Society of Leadership and Success Member April 2022 to present
Academy of Medical-Surgical Nursing Member April 2022 to present
Licensures and Certifications
Certification of Medical-Surgical Nursing (CMSRN) 2017 to present
Registered Nurse, State of Illinois 2015 to present