Katherine Sarsfield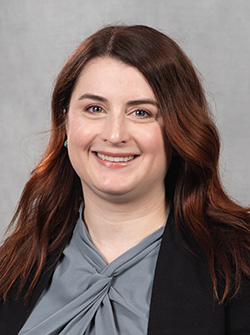 Psychiatric Mental Health Nurse Practitioner Program Director, Assistant Professor in Residence
Westlake Hall 105A
(309) 677-3704
ksarsfield@bradley.edu
Student in Bradley University's Ed.D. Higher Education Administration Program. Anticipated graduation December 2023
Post- Master's Certificate Psychiatric Mental Health Advanced Practice Nursing Maryville University 2019
Master of Science in Nursing Adult- Geriatric Advanced Practice Nursing Maryville University 2017
Bachelor of Science in Nursing Bradley University 2013
Bachelor of Science in Communications/ Journalism Bradley University 2010
Biography
After graduating with a bachelor's degree in communication/ journalism, I had several personal experiences which led me to return and complete my bachelor's degree in nursing. I started working night shift on a cardiac step down unit, and grew increasingly interested in the relationship between mental health and physical illness. This led me to getting my master's degree in adult-geriatric primary care advanced practice nursing, as well as my post-master's certificate in psychiatric mental health advanced practice nursing. I have worked in a combination of primary care and psychiatry services, as well as addiction recovery. My current practice area focuses on alcohol use disorder treatment in the telehealth setting.
Hobbies
Gardening, Anglophile (love history!), Animals ( 2 dogs, 3 cats)
Teaching
I became interested in teaching, and was able to start teaching adjunct with Bradley in 2020 for the undergraduate nursing psychiatric clinical rotations, and later courses within the graduate program, such as advanced practice geriatric nursing (NUR 648) and healthcare informatics (NUR 615). I came on board full time as the director of the psychiatric nurse practitioner program in June 2021, and continued teaching NUR 648 and topics in advanced practice nursing (NUR 699). I have developed the psychiatric mental health nurse practitioner courses, which
My philosophy of teaching is student centered. I embrace instruction that integrates technology. I try to implement classroom materials and activities based on a combination of theoretical approaches with the goal of creating an active, flexible, inclusive and equitable learning environment.
Scholarship
Ed.D. in progress
Participation in quality improvement projects and poster presentations
Service
Department: Program Evaluation, Graduate Curriculum, and Search Committees. Interprofessional Collaboration Subcommittee (2021-2022)
Community: Volunteer at Old Capitol Farmer's Market
Member of ISAPN-Illinois, American Psychiatric Nurses Association, and Sigma Theta Tau.
Licensures and Certifications
Advanced Practice Nurse and Registered Nurse in Illinois, California, and multiple other states.
American Nurse Credentialing Center Certification as Psychiatric Mental Health Nurse Practitioner
American Association of Nurse Practitioners Certification as Adult- Geriatric Nurse Practitioner