Jada Warmick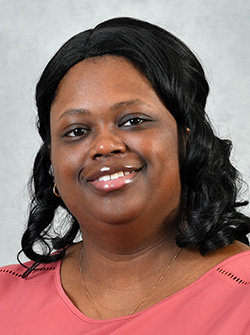 Assistant Professor in Residence
Westlake Hall 015
(309) 677-3828
jwarmick@bradley.edu
MSN, Education focus, Spring Arbor University
BSN, Saint Francis Medical Center College of Nursing
B.A., English, Eastern Illinois University
B.S., African American Studies, Eastern Illinois University
Biography
Professor Jada Warmick joined the Bradley University Department of Nursing in 2022 as a full-time faculty member. The entirety of her nursing experience stems from the OSF Saint Francis Medical Center Emergency Department, where she served a bedside nurse, charge nurse, member of leadership, and mentor. Professor Warmick presently works with undergraduate nursing students in research, junior level medical-surgical principles, and sophomore through senior clinical rotations.
Teaching
"Give a man a fish, and you feed him for a day. Teach a man to fish, and you feed him for a lifetime." – Chinese proverb
Professor Warmick believes in encouraging students to own their learning, acting as active participants in gaining experience and knowledge.
Service
Cooperative Choice Network Credit Union, Board of Directors
Members Choice Credit Union Advisory Board
New Ministry Partner Educator, City on a Hill Church, Education Ministry
Audio-Visual Coordinator, City on a Hill Church, Worship Ministry
Nurses Christian Fellowship, Bradley University
Sigma Theta Tau, Bradley University
Licensures and Certifications
Trauma Nurse Specialist (TNS), IL
Emergency Communications Registered Nurse, IL