Miracle Amah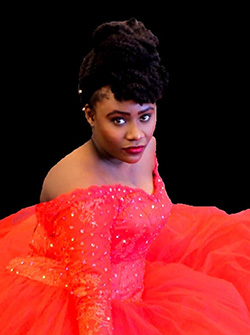 Biography
Miracle Ogbor, a native of Nigeria is a young professional soprano who is presently based in the United States of America. She performs various genres of music which includes Opera, Art songs, Oratorios, Popular music, Contemporary music, Negro Spirituals, Jazz music etc. Miracle has played major roles in several opera productions. Her staged performances include scenes, full Opera productions and short performances in Nigeria, Canada, Germany, Russia, Dubai and in the United States.
Right from the inception of her career in Nigeria and now as an international artist, Miracle has performed with different choirs, making a number of international choir trips. Some of which includes the 9th Johannes Brahms International Choral Festival in Wernigerode, Germany in July 2015, where she won a gold medal with the Mountain Top Chorale (MTC) as a choir member, leader, and a Soloist. Exactly a year after that, she won two gold laurels with the same choir at the Interkultur World Choir Games Competition that took place in Sochi, Russia. In 2016, she was awarded four awards by the Musical Society of Nigeria: the Mrs Francesca Emmanuel Prize for Best Female Operatic singer, the Bode Emmanuel Award for best Female singer, the Dr. Mrs. Femi Akinkugbe Prize award for Voice, and the Mr. Joseph Oparamanuike Graduate Opera Award. From the fall of 2017 till the spring of 2019, she was one of the soprano soloists with the Longy Women's Chorus, Cambridge, Massachusetts.
Miracle has an associate degree where she studied Vocal Performance at the MUSON Diploma School of Music, Lagos, Nigeria. She has a Licentiate in Vocal Performance (LRSM) from the Associated board of the Royal School of Music (ABRSM) - the equivalent of a Bachelors of Music in Vocal Performance. Also appended to her credentials are a Master's degree in Opera and Vocal performance from the Longy School of Music, Cambridge, Massachusetts. She studied for her doctorate degree in Vocal Performance, Pedagogy and Literature at James Madison University, Harrisonburg, Virginia.