The Story of Kaboom!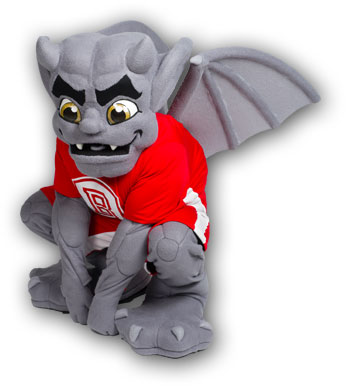 I'm guessing you're here because you want to know what most other people do: "Where did I come from?" Well, I didn't just appear one day. In fact, I've actually been around for quite a while…
It all started in 1897, when I learned about a woman named Lydia Moss Bradley, who decided to start a college in Peoria, Ill. While planning her campus, she hired Henry Ives Cobb (an architect who designed the University of Chicago's first structures) to draft the first buildings for her school. Gargoyles everywhere were talking about how Cobb used the same collegiate gothic style, including gargoyles, that he had in Chicago. That's when I decided it was time to make a move. I already had been considering a career change, so going back to college was the first logical step.
When I arrived at Bradley, I instantly knew it was the place for me. I could fulfill my gargoyle duty by watching over and protecting all on the Hilltop at night, while eavesdropping on classes to further my education by day. I bet you can't guess how many degrees I have now!
While I can't tell you everything I did over the years — gargoyles have some secrets — I have been known to perch high atop Bradley Hall, sneak in a game from the rafters of the Robertson Memorial Field House (talk about cramped wing space), and fly around the wonderfully tall smokestack on Holmes Hall. Of course, I was the first to welcome the four new gargoyles that came to campus in 2011 with the construction of the Hayden-Clark Alumni Center. But, during all that time, I remained hidden from sight. That is until recently.
While I still keep vigilant watch over Bradley as I have for nearly 120 years, I felt my role on campus could be much bigger. I do have much to offer: dazzling charm, a fierce yet friendly disposition and unending loyalty. When I learned about the opportunity to interview for the new mascot position, I decided it was the perfect time to step out of the shadows.
So, how did I get my name? Well, Kaboom! originated with Hall of Fame Voice of the Braves Dave Snell, who has used the term to energetically describe slam dunks during Bradley men's basketball games since the late 1970s. However, I think of my name as more than just basketball. To me, it represents all the sports on campus, plus that "Aha" moment in the classroom when a student finally grasps a hard concept, the diligence of our professors in collaborating with students for research and publications, the altruism of our campus family when they volunteer in the community. To be honest, I believe Kaboom! is the sound of the Bradley Experience in action.
That's why I strive to live up to the role of a Bradley Brave, showing spirited leadership, welcoming prospective students to campus, and serving as a University ambassador in the community.
Now that you know more about me and my background, be sure to introduce yourself when we meet. Although I don't say much — or anything for that matter — I always enjoy high-fiving other Braves. Watch for me at Bradley games, campus events, and around the Peoria area. You also can stay connected with me through Twitter.
Go Braves!