Events
Upcoming Events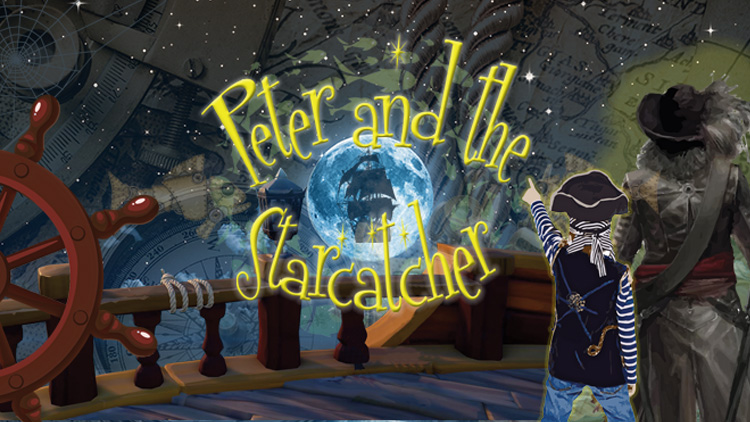 Peter and the Starcatcher
Thursday evening, September 26th, 6:45 pm
Reserve by Sept. 23rd with an email to Katie (kmanning@bradley.edu)
The Bradley University Theatre Department presents the Tony-Award-winning "prequel" to Peter Pan, a high-energy voyage of music, magic, and spellbinding theater. On a sea journey to the land of Rundoon, a fearless young girl joins forces with an orphan boy and his friends to protect a powerful secret from the dastardly (and very Hook-like) pirate, Black Stache. Singing mermaids, evil crustaceans, a ship called The Neverland, and a mysterious substance called Starstuff spark this acclaimed musical play, directed and choreographed by returning guest artist Chad Bradford.
We'll enjoy dessert and an introduction to this production by Scott Kanoff, the Chair of the Theatre Department.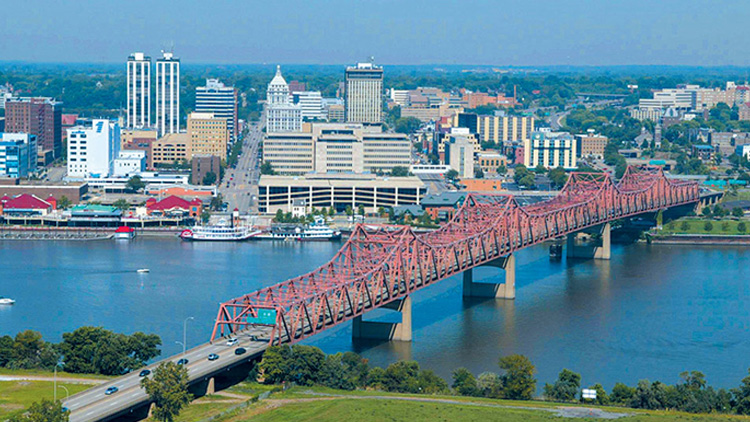 Tour of Peoria
Friday, Sept. 27th, 4:15 - 6:00 pm
Seating is limited. Reserve with an email to Katie (kmanning@bradley.edu) by Monday, Sept. 23rd.
See Grandview Drive, coined by President Teddy Roosevelt as "The World's Most Beautiful Drive," learn how Peoria became the whiskey and earthmoving capital of the world, and enjoy getting to know many of the other most interesting locations in Peoria. Hosted by Bernie Drake, an expert guide from the Historical Society, we'll learn about the Native Americans, the French, and get to know our city.
Halloween Movies
8:30 every night in October
No reservation necessary.
The men of the Honors floors are sponsoring Halloween movie nights every night in October. They'll be shown in the third-floor Honors lounge. All students, including those not living on the Honors floors, are encouraged to attend any night. If you do not live in Williams Hall, meet on the ground floor (accessible through the food court) at 8:25, and one of the RAs will meet you and take you up to the lounge.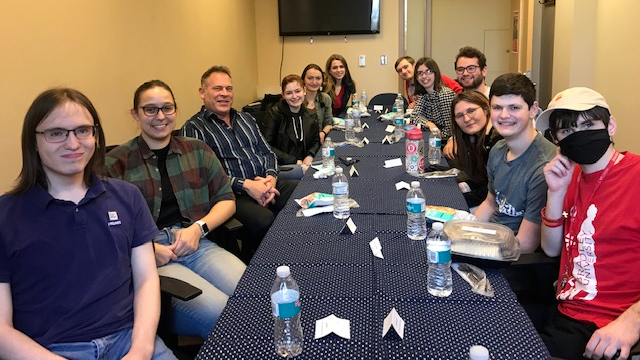 Lunch with Honors
Friday, Oct. 18th, Noon - 1:00 pm
Seating is limited. Reserve with an email to Katie (kmanning@bradley.edu) by Monday, Oct. 14th.
Join Dr. Seth Katz, one of our favorite Honors professors, and Honors students for an informal lunch and discussion. This is a great chance to meet Dr. Katz or re-connect with him and let him know how much we appreciate his teaching. We'll order lunch from Cracked Pepper. Katie will send you the menu choices when you reserve a place.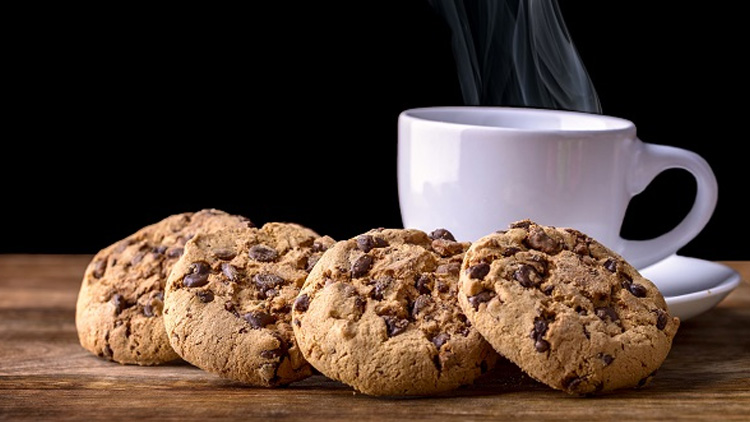 Cookies with Katie
Honors Program office, 295 Bradley Hall
No reservation necessary.
Our terrific Honors Administrative Assistant will treat you to cookies, coffee, hot chocolate, and tea in the Honors office. Stop by and say hello!
Thursday, Oct. 10th, 2:00 - 4:00 pm
Thursday, Nov. 14th, 2:00 - 4:00 pm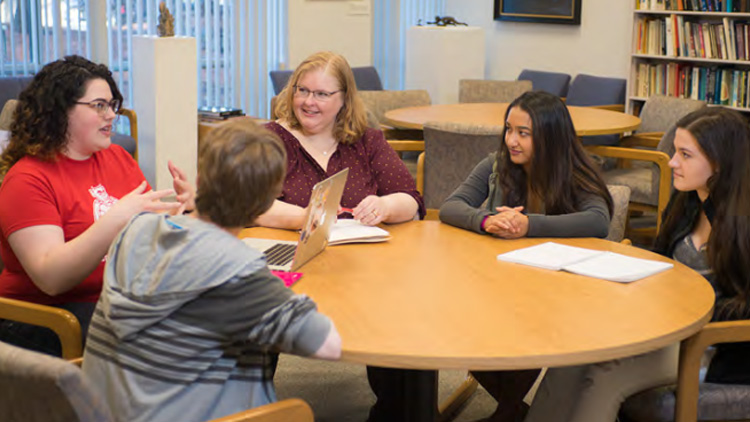 Honors After Class
Thursday, Nov. 21st 4:30 - 6:30 pm
297 Bradley Hall
As the semester draws to a close, let's come together for some productive study time and also enjoy an informal dinner.
Recent Events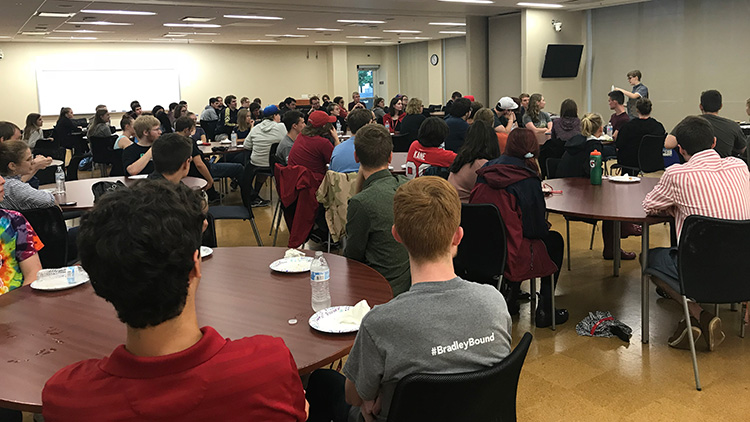 Meet-and-Greet Snack Social
Because we want everyone in the Program to get to know each other, we're offering an early fall event: great snacks and a chance to see old friends and meet new ones. We're a friendly group, so feel free to come alone and start meeting others. A few of the Honors students will give short presentations during the event.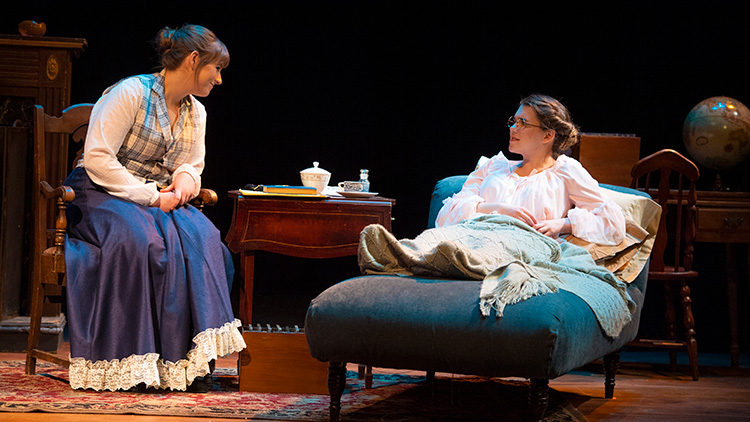 Silent Sky
The Bradley University Theatre Department presents the true story of Henrietta Leavitt, a young astronomer who in the early 1900s began work at the Harvard Observatory. Permitted to work only in support of her male higher-ups, the brilliant Leavitt pursued her own research into the light and distance of stars. Largely unappreciated in her lifetime, her breathtaking discoveries led to our knowledge that the universe is expanding, and forever changed the way we understand the cosmos. We'll enjoy dessert and an introduction to this production by Theatre Chair Scott Kanoff and Bradley senior, Trevor Baty, the play's director.
A Night at the Symphony
The opening concert of the Peoria Symphony's season features two spectacular Romantic works by Antonin Dvorak and Bruch's Scottish Fantasy with virtuoso violin soloist Catherine Cho. We'll have dessert and a short preview before the concert, then head to the Civic Center Theatre together. This will be the best concert of the season!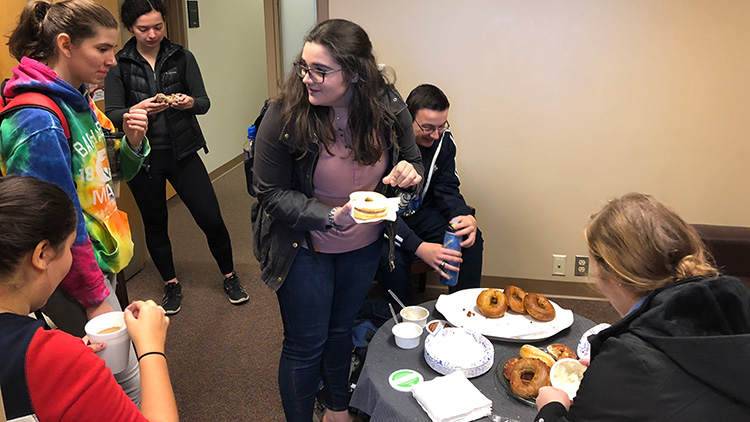 Bagel and Pastry Mornings (and maybe Tanner's donuts for one!)
These informal events offer opportunities to get to know others in the Program. Stay for a minute or stay for an hour; it's up to you!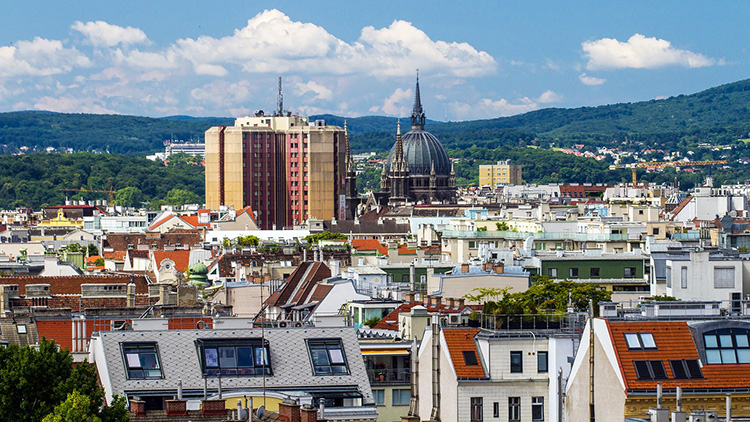 Vienna Preview
The Honors Program will offer a special Study Abroad in Vienna during the 2019 May Interim. We'll visit castles and cafés, explore neighborhoods where great novels were conceived, and attend world-class performances in the finest concert halls in the world. The first two Honors Study Abroad offerings were great successes and those who participated loved their experiences! Join Prof. Conley and some of the students who participated in our last Vienna adventure to learn more about this offering.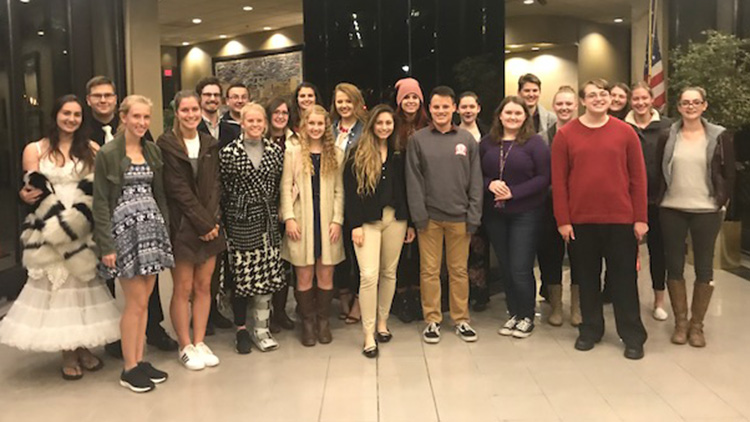 Lion King at the Peoria Civic Center Theatre
For this very special ticketed event, we will leave campus at 6:15 p.m., stop at Dr. Dzapo's 17th-floor condo in the Twin Towers downtown for dessert, then walk across the street to the Civic Center for the show. Please sign up in the Honors office, 295 Bradley Hall, with a $10 deposit. This deposit will be refunded on the evening of the performance as long as you attend.