Police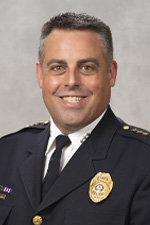 Mr. Brian J. Joschko
Associate Vice President for Public Safety and Chief of Police
B.A., M.A.
Campustown
(309) 677-1002
bjoschko@bradley.edu
Mr. Brian J. Joschko serves as Associate Vice President for Public Safety and Chief of Police at Bradley University, a position he has held since June 2011. Chief Joschko oversees 21 sworn and commissioned police officers, the police dispatch functions of Central Communications, several administrative staff, and the Student Patrol and Hilltop Safety Cruiser student programs. The University Police Department is charged with providing safety and security on the 85 acre campus and the near off campus area. Chief Joschko oversees patrol operations, investigations, officer recruitment and training, crime prevention strategies, crime analysis and reporting, special event management, physical security, card access, closed-circuit television security cameras, traffic control, and emergency preparedness and response.
Chief Joschko currently serves as secretary of the West Bluff Council, which represents all of the neighborhood associations surrounding Bradley University, treasurer of the Peoria County Association of Chiefs of Police and as treasurer of Central Illinois Police Training Center - Mobile Training Unit 7.
Prior to becoming Associate Vice President for Public Safety and Chief of Police, he served as a senior lieutenant with Marquette University with oversight of the communications division, budgeting, special projects, facility security and strategic planning. He had more than 12 years' experience with the Marquette Department of Public Safety.
Chief Joschko has a B.A. in Criminology and Law Studies from Marquette University, a M.A. in Nonprofit Leadership from Bradley University, is a graduate of Northwestern University's School of Police Staff and Command, and is a graduate of the University of Illinois' Police Training Institute Basic Law Enforcement training program. He and his wife, Theresa, have three children.